Investor Relations
Corporate Profile
Bright Horizons is a leading global provider of high-quality child care and early education, back-up care, and workplace employee services. For over 30 years, Bright Horizons has been a champion for working families, designing and providing innovative solutions to help families, employers, and their employees better address the challenges of balancing work and family life. Operating approximately 1,100 child care centers in the United States, the United Kingdom, the Netherlands, Canada and India, and serving more than 1,150 of the world's leading organizations, Bright Horizons' child care centers, back-up child and elder care, tuition program management, education advising, and student loan repayment programs help employees succeed at every life and career stage, both at work and at home.
Upcoming & Recent Events
Nov 5, 2020 at 5:00 PM EST
Aug 5, 2020 at 5:00 PM EDT
Investor Information
Stock Quote
Change
Volume
52 Week High
52 Week Low
Stock Chart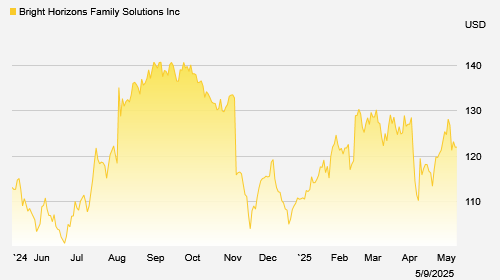 Data Provided by Refinitiv. Minimum 15 minutes delayed.